Milford Sound is thought to be New Zealand's most stunning natural attraction and it's relatively easy to reach from Queenstown. It's located deep within Fiordland National Park and offers a magical combination of mountain peaks, ink-dark waters and superb dramatic forest-clad cliffs and must be seen to be believed for its pure natural beauty. This is why Milford Sound is a must do on every Queenstown itinerary.
Milford Sound is located in a remote part of the South Island, with only one road leading to the world famous fiord. The Milford Road is not just a way to get to Milford Sound. It's an unforgettable journey through the stunning alpine scenery and lush native rainforest into the heart of Fiordland National Park.
Once you are in Milford Sound take a cruise where you will discover cascading waterfalls, awe-inspiring cliffs and get up close to wildlife as you cruise the fiord out to the Tasman Sea.
There are several ways to get to Milford Sound, including bus and coach travel, self-drive or air travel. The method you choose will depend on the amount of time you have, your budget and what type of traveller you are.
Bus, Boat, Bus
Travel to Milford Sound by bus for a cost-effective option. Definitely take a scenic cruise, after all, that's why you have gone to Milford.  Find out about bus and coach tours to Milford Sound and what you can expect from the different operators.
Drive
Want to self drive to Milford Sound along one of the world's most scenic routes? You can get there in a car or campervan – but make sure you read guides on driving to Milford Sound to make sure you've planned well and avoid some common mistakes. From Queenstown make sure you allow 5 hours to travel, this will then give you enough time to stop and enjoy all the beautiful scenic locations along the way, especially Mirror Lakes and the Chasm. If you see a tour bus stopped on the side of the road, then we suggest you stop as well, as there will probably be something special to see… possibly a cheeky kea, beautiful cascading waterfall or just a fantastic photo opportunity.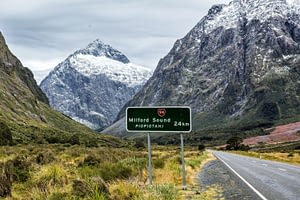 Fly
Scenic flights to and from Milford Sound offer breathtaking beauty and a unique way to see Fiordland National Park. You can upgrade your Milford Sound coach tour to include a flight back to Queenstown. Helicopter flights are also available.
Our recommendation
Relax on a coach to Milford Sound, enjoy the scenic cruise and fly back to Queenstown. On the way to Milford Sound the coach driver or tour guide will provide a full and detailed commentary pointing out all the highlights along the way. The coach will also stop at Te Anau for a coffee break as well as the Chasm and Mirror Lakes, however on the way home there is no commentary and they stop at Te Anau for a short time. Depending on the time of the year it can be dark before you return to Queenstown. However, if you fly home in either a plane or a helicopter you will see the mighty fiord from the air and fly above ancient glaciers, rugged mountaintops and dense native rainforest on your way back to Queenstown Airport.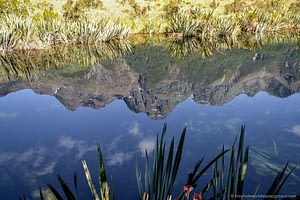 After you have been to Milford Sound, the next day you may want to visit Wanaka